G-Suite is a suite of applications developed by Google. Quick to set up, simple to use and secure, its objective is to optimize your company's performance through virtual and collaborative work and communication tools in real time. 
G-Suites' services have attracted large groups such as: Airbus, Colgate Palmolive, Pricewaterhouse Coopers… many companies in the Nasdaq of the Dax30 and the CAC40 and more than 5,000,000 professional users around the world.
At Done, we have been using G-suite services on a daily basis for over 4 years to improve our productivity. If the email service offered by G-suite is certainly one of the best on the market, the other services available such as Google Drive storage or Google Docs and Google Sheets applications… make G-Suite a powerful and complete tool that we recommend to all our customers.
A powerful and secure email service
1 – Professionalization of your email address
With G-Suite you will be able to create (or continue to use) your business email addresses via the Gmail interface.
Addresses with extensions such as @gmail.com, @yahoo.com or @pt.lu that damage the credibility of your emails are replaced by an address surname.name@myfirm.lu that professionalizes your emails and affirms the legitimacy of your activity
2 – An easy-to-use interface and simplified administration
All your team members have the same address extension and as the Gmail interface, which is used by G-Suite, is well known to all of this you avoid the traditional obstacles to change and other slow adaptation.
The management of the various email accounts is simplified from access to the administration console of your account (admin.google.com). It allows in a few clicks to:
Create or delete users, manage their status and passwords
Adding domain names
Manage more advanced options such as access permissions to G Suite applications for different users in your company
Implement specific rules such as email routing, shared distribution or double delivery.
3 – A powerful spam filter and anti-piracy protection
As gmail users know, to protect its customers' email accounts, Google has developed some of the most effective features on the market to fight phishing, viruses and spam.
In addition, to stop hackers from accessing your account by hacking your password, Google has implemented a two-step authentication system (via SMS). This security system will also send you a warning if you attempt to connect to your account via new devices or unknown IP's.
Create custom calendars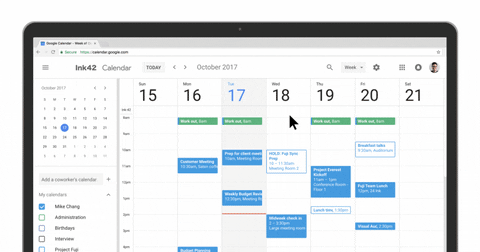 4 – For your customer relations
Using Google Calendar offers many possibilities for teamwork and customer relations:
Creation of several calendars according to the rights granted to your employees
Automatic addition of emails related to events or appointments to your calendar
Automatic sending of emails to the various participants of a meeting so that they can confirm their presence
Attachment of documents in connection with the scheduled appointment
Integration of Hangouts links (video conference) in your invitations
5 – In your internal organization
Your employees receive alerts (including on smartphones) to remind them of their next appointment, and if it is scheduled outside your offices, the alert system will calculate the travel time required to get there and notify you in time to get there.
Your employees have access (depending on the rights you grant them) to their colleagues' schedules, they can invite other participants to meetings and you can also set your availability so that an assistant can manage your appointments.
Google calendar automatically checks if a collaborator is available for a next appointment. 
You can integrate a specific agenda for the management of your meeting rooms
Google Calendar is also compatible with other online calendars
A solid alternative to Microsoft 365
Word processing, spreadsheet, viewer… G-Suite offers a complete office suite. The advantage of the G-Suite solution is that its software can be used from any medium and is accessible in mobile mode thanks to the cloud. You can start a report on your Desktop, reread it on your smartphone and make the final adjustments before going into a meeting with your tablet
6 – Google Docs
The word processing offered by G-Suite is very similar to Microsoft Word, and even if some advanced features are missing, this does not prove to be a major obstacle for daily and professional use. Google Docs also allows you to easily import many document formats (Microsoft or Adobe) and save them in their original format.
7 – Google Sheets
Google Sheets spreadsheets allow the import of excel tables – its ergonomics is quite close to that of the Microsoft spreadsheet, which allows a quick learning curve. As for Word, some advanced functions are not (yet) available, but these are only advanced functions that are not widely used.
8 – Google Slides
Slides is a viewer that, like powerpoint, allows you to edit presentations in the form of graphics, drawings or animations.
9 – Google Forms
Google Forms is a software that allows you to quickly create a survey or questionnaire. It incorporates many pre-defined elements to save you time and you can easily customize your creations for more comfort.
If you use Google Forms as part of a questionnaire you send to your customers, for example, the answers you receive will be compiled in real time in a central document, and for better interpretation of the results, they will be presented either graphically or in statistical form.
Work anywhere, from any media or environment

10 – Nomadism
G Suite is a cloud-based solution accessible from any media. Your mobile workers will have the same working power and tools as if they were at the office and they will be able to collaborate in real time with other members of your team, wherever they are.
11 – Work Sharing
G-Suite allows you to share a document, a spreadsheet for example, between different members of a team and each member of this team can annotate or modify this document, which will be the same for everyone. A chat function allows employees who are active on a document to send each other messages and comments at the same time.
12 – Multi-support and multi-platform compatibility
G Suite works with all existing browsers, from a Mac or PC environment, on all smartphones and tablets regardless of their Apple, Android or Windows Mobile operating systems.
G Suite secures your company's data

13 – Take advantage of the power of the cloud
G Suite uses the Cloud, so it is necessary to have an internet connectivity to access it. Your resources and data are hosted on google servers whose availability and security level are among the highest on the market.
14 – Secure your documents and backups with Google Drive
Google Drive is a cloud system that is at the heart of the G Suite. Google Drive is the central location where all the data you need to work collaboratively is stored.
The connection to G Suite is encrypted in https mode (as for online banking transactions), the information you send via your G-suite is encrypted at the exit of your computer to be decrypted once it reaches your recipient's computer.
To conclude

G-suite Services are available in 3 packages: Basic, Business and Enterprise, which offer different storage and protection capacities. For more information on G-Suite's services, please do not hesitate to contact us