Google Workspace (formally G-suite) is a suite of tools published by Google including: Gmail, Hangouts, Drive, Google Docs, Sheets, Slides & Forms and Google Calendar.
As a Google Cloud Partner certified agency, DONE is your partner for the consulting, configuration and deployment of the productive and collaborative software offered by Google Workspace.
Take advantage of this technology used by more than 5 million companies to start digitizing your business.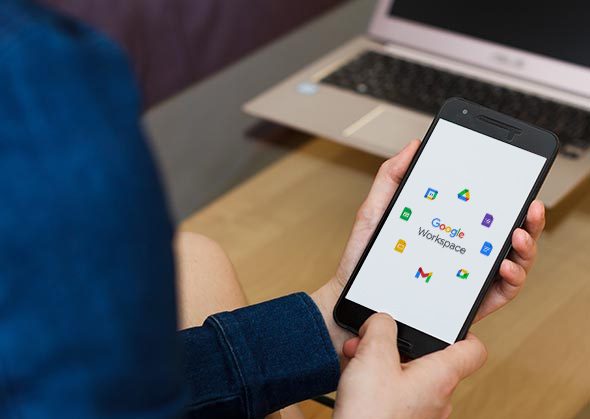 More information on Google workspace ?
As a Google Cloud Partner we help you make the most of this powerful real-time collaborative work tool.
Communicate
Send and receive your emails (with your pro email address from Gmail) and attach your documents directly from Google Drive.
Schedule events in Google Calendar at times convenient for all participants and receive meeting reminders.
Participate in one-click videoconferences via Hangouts and share your presentations on your audience's screens.
Create
Easily edit your documents and share them with your team members
Co-publish in real time your spreadsheets, slides, cooperative table in real time with your colleagues
Access
Automatically save your documents in Google Drive so that your contacts can access the latest version and save you the trouble of sending attachments.
Work on all your devices; start a project on your desktop, then modify it on your laptop and bring the final details from your phone.
Connect with the same interface regardless of the device you are using.
Control or secure
Store your data on Google's secure network.
Manage mobile devices, email addresses, security settings and more from your Google administration console.
Secure and centralize your company's data and protect yourself from hazards such as loss or theft.
Choose your Google Workspace edition.
---
Business starter
Professional office suite with 30GB storage
6 €
EUR / user / month
Business email through Gmail
Video and voice conferencing
Documents, spreadsheets, presentations
Low-code app development environment
Smart search across G Suite with Cloud Search
24/7 support by phone, email, and online
Security and administration controls
Alert center for Google Workspace
Business Standard
Enhanced office suite with 2TB storage
12 €
EUR / user / month
Business email through Gmail
Video and voice conferencing
Documents, spreadsheets, presentations
Low-code app development environment
Smart search across G Suite with Cloud Search
24/7 support by phone, email, and online
Security and administration controls
Archive and set retention policies for emails and chats
Alert center for Google Workspace
Data regions for Google Workspace
eDiscovery for emails, chats, and files
Audit reports to track user activity
Business Plus
Premium office suite with 5 TB storage, advanced controls and capabilities
18 €
EUR / user / month
Business email through Gmail
Video and voice conferencing
Documents, spreadsheets, presentations
Low-code app development environment
Smart search across G Suite with Cloud Search
24/7 support by phone, email, and online
Security and administration controls
Archive and set retention policies for emails and chats
Security center for Google Workspace
Alert center for Google Workspace
Access Transparency
Data regions for Google Workspace
eDiscovery for emails, chats, and files
Audit reports to track user activity
Data loss prevention for Gmail
Data loss prevention for Drive
Hosted S/MIME for Gmail
Integrate Gmail with compliant third-party archiving tools
Enterprise-grade access control with security key enforcement
Gmail log analysis in BigQuery